Phil Castillo - 05/10/2021
Download Sticker.ly APK Latest Version free for Android for custom made stickers. Make your WhatsApp explode with different memes, emojis, and more.
WhatsApp is a popular messaging app for users all over the world. As long as you have a phone number to link, you'll be able to contact anyone across the globe. Due to this fact, many mobile users even use WhatsApp over their own phone's messenger. So, Sticker.ly is the perfect way to express yourself to all of your friends and family.
The Sticker.ly app is a sticker maker, as well as status video maker. You choose from a selection of many different stickers or create your own custom ones. This app is the number one way to show the world how you feel and think.
So, try it out for yourself. Download the file and install the application to your Android library now.
How to Create a Sticker
If you want to learn how to make a sticker pack before downloading the app, here is how to do it. Follow along and soon enough you'll be making your own funny and entertaining stickers.
First, you'll need to name the pack you want to create. Think of what type of stickers these will be. Find an appropriate name for the group that fits the overall theme of the entire thing. Next you can select your own photos to make stickers. Cut them out and create stickers out of the photos you already have. Now, you can give more life to these images. Add quotes, captions or any other form of print. This will add a lot of personality to your sticker. Finally, now that you have your group, you can export them all to WhatsApp. From there, go and share them all with your friends and family!
Additional Features
Here are some of the features that make the applications so good and fun to use. Check them out before installing to your device, if you are still a little reluctant to download. Regardless, this is still one app you should have in your library, no matter the circumstances.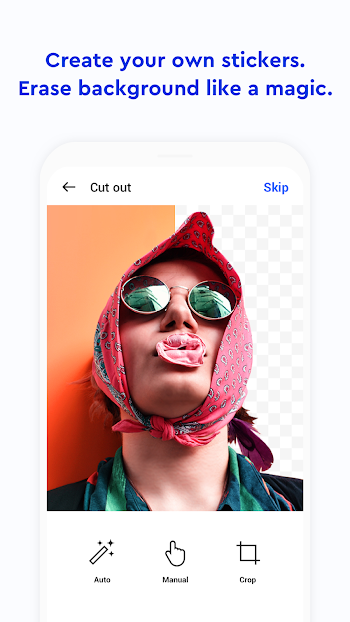 Anyways, look over these specific characteristics that make the application as enjoyable as it is:
You can explore millions of different and hilarious stickers. You can use them in your chats and all of your statuses for WhatsApp. Also, create different stickers from the various photos in your library. The Auto Cut technology will automatically create perfect stickers out of the photos you select in your gallery. You can also easily export any of the sticker you create straight to WhatsApp. There are no limitations to the amount of different images, memes, quotes, etc…This is your free domain to express yourself. In addition, you can even share all of your creations with the rest of the world. Upload them to the app and anyone who views can select and use them for themselves. They can even share your stickers with many other people.
Maybe all of these additions have changed your mind.
Sticker.ly APK Free Download
You can get the free download for Sticker.ly and the pro version. How is that possible? With APK files of course. When you download them, you get a more convenient file size, faster download speeds, and even some additions that weren't previously available.
So, you can get the Sticker.ly premium APK file download 1005 free for your device. You won't need to spend a single cent out of your pocket to blow away all of your friends, family and even strangers with your conversations and stickers.