Billy Gray - 22/10/2021
Want a simple puzzle game with a lot of challenges? Download Sand Balls mod APK and solve the puzzles with your finger to get all the balls into the truck.
Puzzle games come in all shapes and sizes, and this one is one of the most creative that we've seen so far. Sand Balls is a pretty simple game. You just have to get the many balls through the sand and into the back of a truck. They start at the top of the screen and fall down as you dig a path with your finger. But it's not that easy.
As the game progresses, you'll be met with more and more obstacles blocking your path – some of which will require a little outside help to clear. If you want to get all the balls into the truck, then you're going to have to get a little creative.
Instant classic
Developed by SayGames – the same team that brought you Johnny Trigger – Sand Balls is one of those instant classics that combines platform style gaming with puzzle elements and fun modern graphics. In
short, it's the kind of game that you can get really addicted to because it has all the elements of a wonderful gaming experience.
There is some challenge – you have to think outside the box to get through all of the levels – and there is also a lot of fun to be had watching the balls all fall through your path. It's super satisfying!
The graphics are bold and very colorful, which makes the game ideal for young children. Of course, there is no cut-off age for playing Sand Balls, it can be enjoyed by anyone who wants to pick it up and have some fun. The music is also a hit. It's fun and simple and makes it feel more like a classic arcade game, which is certainly a plus for those of us seeking some nostalgic fun.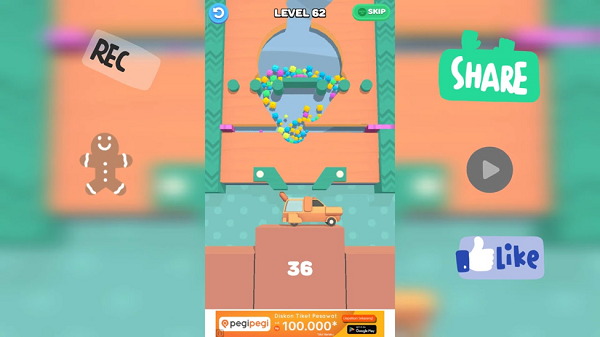 Tips for playing Sand Balls apk
Sand Balls is a simple concept, but the game itself is actually pretty tricky. If you're new to the game, which we're assuming you are, then here are some tips and tricks for playing it.
Keep it tight: You really have one task in Sand Balls apk – get the right amount of balls in the truck. You don't have to worry about putting too many in there, so forget being concerned about this. What's important is that you get the minimum required number of balls in the truck.
We recommend that you keep the balls in a tight formation so that they don't start falling away from each other. If your balls are all spread out, then you'll have to do more digging to get them back together. You want to funnel them into a line so that you can easily drop them all in the truck at the end.
Blow sh!t up: If you can't get through an obstacle, then the best thing to do is blow it up. Yes, just like US foreign policy. Jokes aside, you're armed with a certain amount of bombs in some levels and the point is to use them on obstacles that you simply can't get around any other way. Make sure that you don't waste them on pointless things, though – try to save them as a last resort.
Get all the balls: You'll get between one and three stars at the end of the level – three being for when you managed to collect all of the balls. If you get every single one of them, then your truck will drive off and come back with a bunch of pink diamonds. This is the in-game currency and you want as many of these as possible, so make sure that you're making every effort to get every single ball in your truck each level.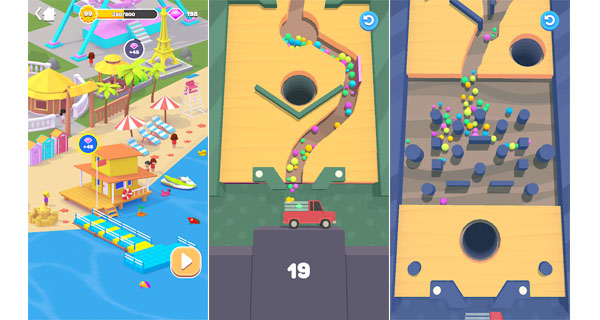 Upgrade your truck: You'll be able to carry more balls in an upgraded truck, so as your progress through the game, you'll need to start making upgrades. If you can't carry all the balls, then you can't get a perfect score and this will mean you'll earn less diamonds. So, make sure that you're always reinvesting your diamonds into a better truck.
Upgrade the balls: As well as upgrading your truck, you can also upgrade the balls themselves to make the game much more fun and colorful. On top of this, the upgraded balls will be easier to move around as well, which makes future levels easier. As soon as you can spare the cash, you should upgrade your balls.
Sand Balls Mod APK - Unlimited Coins, gems, keys + no ads
If you want to make the game easier, then download the unlimited diamonds mod to get an infinite supply of diamonds. This will mean that you can upgrade the truck and the balls straight away. It takes some of the challenge out of the gameplay, but it makes things much more fun from the beginning of the game.