Billy Gray - 21/10/2021
Download Pull the Pin APK - latest version - for Android to solve a variety of complex physics puzzles and keep your brain healthy!
Developed by Popcore Games, Pull the Pin is an innovative puzzle physics game for APK Android which involves a series of well-designed levels to keep your brain busy during your commute or sitting bored at home. The aim of the game is to get the balls from the top of the level to the bottom, and rescuing as many as you can in the pot!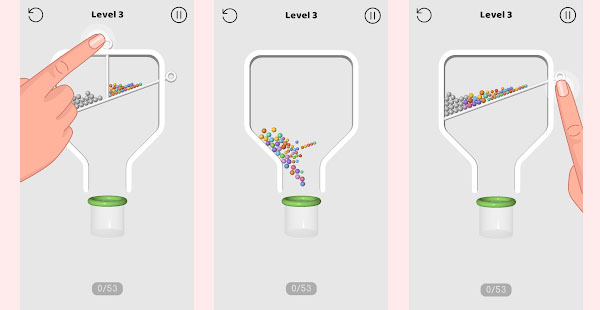 The levels start out quite simply, but get much more difficult as time progresses. From pulling the pins once or twice, you then have to start dealing with all sorts of trickery. There are color requirements, bombs, and even massive obstacles in your way. Do you have what it takes to master the Pull the Pin game?
How to Play Pull the Pin
Pull the Pin is straight forwards, but not easy. The game does a good job of teaching you the mechanics as you go. All you need to do is swipe your finger and pull the pin. You might be reminded of lots of other Android puzzle games, like Happy Glass and many others, and Pull the Pin doesn't disappoint if you're a big fan of the genre. This brain-teasing game is designed to keep you hooked when you're bored or killing time on the train. Don't worry - if you get stuck there is a hint function, and if you are really stuck, you can always ask your friends for help.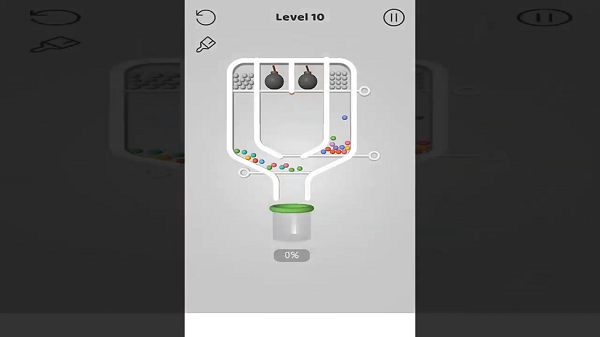 Working your way through the levels
Each level is an intricate puzzle. It's sort of like an arcade game where you drop the coins, or you're trying to route water from one end of the puzzle to the next. In this case, Pull the Pin involves lots of different balls. Sometimes you'll just need to get as many balls to the end as possible, but sometimes you'll need to make sure they interact with other colored balls and don't get exploded by a huge bomb.
Unlimited levels, unlimited fun
One of the best things about Pull the Pin is the sheer number of levels. Like all great Android puzzle games, you never want the fun to end. Although the levels are simple at the start, and you might complete 2-3 every minute, the game gets progressively harder. By the time you reach level 400, it's much more difficult than at the beginning. There are some adverts, but with an easy to download APK Mod, they'll disappear!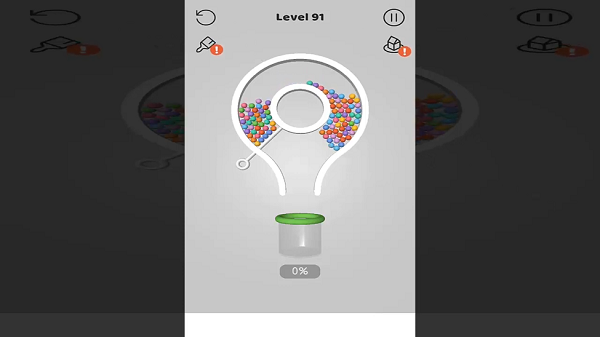 If you get stuck, help is at hand
Don't worry. Pull the Pin is quite forgiving, especially if you start to get stuck on the levels. You can use the coins you earn while playing to purchase hints. You get more coins by collecting more balls, so make sure to complete every level to the best of your ability. These hints give you a big clue on which pins you should pull first, and in which order you should complete the level. If you get really stuck, help is right there! Don't feel too bad about taking a hint, sometimes you'll need one to figure out these tricky levels.
Training your brain
One of the best things about Pull the Pin, and other Android games like it, is that these fun little time-killers are also great for keeping your brain sharp. There have been lots of studies conducted that show playing puzzle games on your phone is a good way of keeping your brain active and healthy. Solving the tricky puzzles involves a lot of thought and time, keeping you focused rather than just watching a video or listening to music. The challenge is right there and waiting, do you have what it takes to beat the physics puzzles all on your own?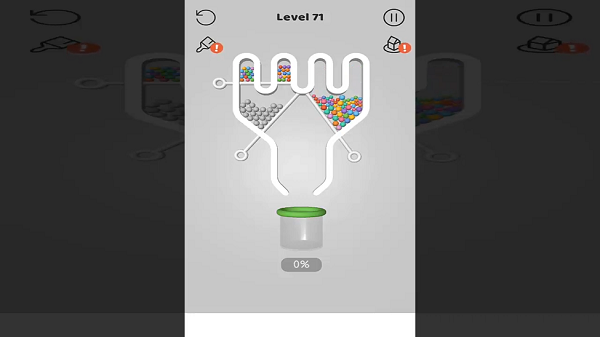 Clever level design from Popcore Games
Pull the Pin has some really clever level design. The developers, Popcore Games, have mastered the art of designing a simple game with some really challenging mechanics. There are also regular updates with new levels added (if you do manage to complete them all!) and they often add bug fixes and other updates to keep the game running smoothly.
Pull the Pin Mod APK - Unlock all skins
Want to speed through tricky levels with Unlock all skin, Unlock all balls, No ads in Pull the Pin? Download the free Mod APK for Android phones and tackle the game with a breeze.